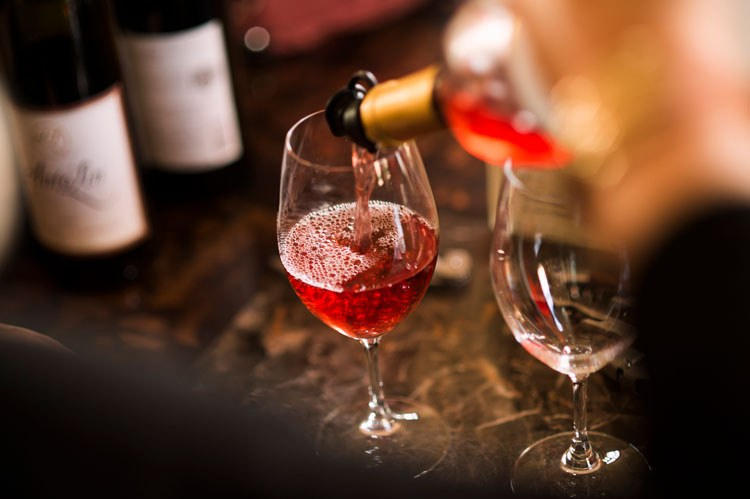 In the heart of Downtown Yakima, you'll find a relaxing tasting room with casual décor pouring luscious wines sourced straight from their estate vineyard. This little gem is AntoLin Cellars, owned by Tony and Linda Haralson who dreamed for years to become wine makers and carve out their own space in the Yakima Valley wine scene. The name AntoLin comes from their "couple" name, (An)Tony and Linda, to signify their partnership to each other and the business and we think that's the cutest thing ever.
You can unwind after a long day or start it off right with their central location. AntoLin is only a few blocks from many of downtown's hotels and is located on historic North Front Street. Enjoy their open patio during one of the valley's numerous sunny days, or take your tasting adventure into their large, comfortably decorated tasting room where you will feel just like family.
Choose from a wide selection of wines—Cabernet Sauvignon, Chardonnay, Rosé, Malbec, Riesling, Viognier, Syrah, and more—all from their AntoLin Estate Vineyard, and other select sites in the Yakima and Columbia Valleys. We also highly recommend giving their wine smoothies a go – served year-round. You can choose your Smoothie from a red or white wine base or have them mix them together!
Regardless of the time of year, you'll always find something to do at AntoLin Cellars. Savor award-winning wines while discovering the work of local artists in their Tasting Room Art Gallery. Pop in to hear some local talent playing live music in their Tasting Room every Friday Night. Stop by for a Paint Nite on Thursday nights or Saturday afternoons. There are also NUMEROUS events that go on right on their doorstep. From Downtown Summer Nights to beer and wine events like Yakima Blues and Brews, AntoLin Cellars is always right in the middle of the action and is a great place to duck into for some relaxed conversations before or after any event.
AntoLin Cellars
14 North Front Street
Yakima, WA 98901
509.961.8370
A favorite spot to relax and savor award-winning wines in a comfortable and contemporary setting on historic North Front Street in downtown Yakima.
Must-Try Drinks
2015 Estate Cabernet Sauvignon (2019 Wine Press NW Platinum Competition: Platinum winner, 2019 Seattle Wine Awards: Double Gold)
2015 Estate Carménère (2019 Wine Press NW Platinum Competition: Double Gold, 2019 Cascadia Intl. Wine Competition: Gold)
Must-Attend Events
Oh man, this is hard, but we'd have to say definitely stop by AntoLin Cellars first during Spring Barrel in the spring and Catch the Crush in the fall before heading out into the surrounding hills.