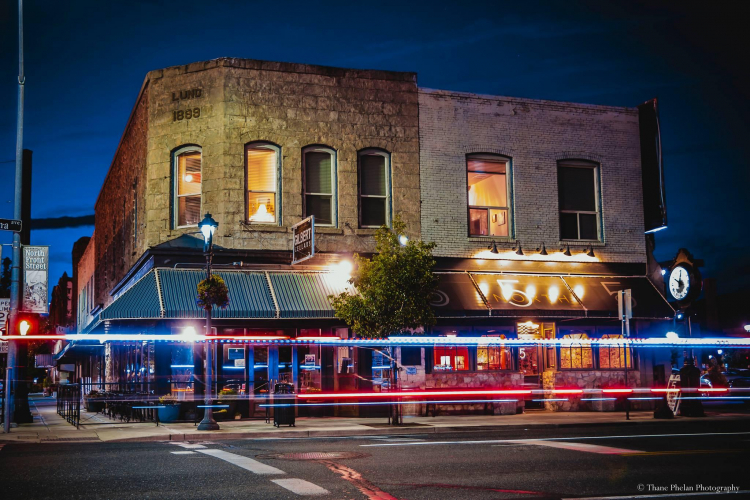 With Gilbert Cellars you get TWO options to experience this staple winery. If you're hanging out around the downtown area, duck into their tasting room just off historic Front Street. Or, if you're out and about, you can head about twenty minutes west of the downtown area to their official winery when they're hosting a special event. Each location offers its own unique atmosphere but you'll taste the love and passion that goes into their wines no matter which you choose.
Gilbert Cellars started back in 2004 by a family of fifth-generation Yakima Valley fruit growers honoring their family's legacy and putting their own stamp on the Valley they call home. Gilbert Cellars believes that what they're doing matters—creating wines that celebrate the terroir they love.
"Visitors and locals alike are surprised to learn about Gilbert Peak, the highest point between Mt. Adams and Mt. Rainier, in the Cascade Mountain Range. Named for Gilbert ancestor, Curtiss R. Gilbert. The glaciers atop this peak feed the South fork of the Tieton River, one source of water the family relies upon to farm in the Valley. Its silhouette on the label represents the tie between family legacy, a geological sense of place, and the lifeblood of Gilbert family gatherings: good food, good conversation, and good wine."
Their tasting room in Downtown Yakima offers an inviting setting for wine tasting as well as gathering and sipping wine with friends. They're open a bit later here than most tasting rooms, join after 5 PM to sip wines-by-the-glass, nibble on light bites, and if you're there on first Friday, enjoy live music. In addition to the live music on Fridays, you can catch Larson Gallery PopUp Art exhibits, Humanities WA Think & Drinks, wine dinners, tasting events with the winemaker, and more. Check out their Facebook page to stay up to date with everything going on!
The actual winery offers a more back-to-the-roots experience of farm life in the Yakima Valley. Located between vineyards, orchards, and even some lavender fields, you'll get the sense that you're miles away from everything. It's the perfect place to relax with your best friends and soak up some of the best this Valley has to offer. Some of their staple events are scheduled tours and their summer concert series, Music in the Vines. You can even host your next event or wedding here!
Gilbert Cellars
5 N Front Street, Suite 100
Yakima, WA 98901
509.249.9049 ext. 7
Home to our family-owned winery, our barrel room–The Cave, and our lawn style live music venue–The Amphitheater.
Must-Try Drinks
Allobroges
Left Bank
Rosé (their Rosé sells out every year, grab a bottle to go while you're there!)
Must-Attend Events
Any of their Music in the Vines summer concert series nights!