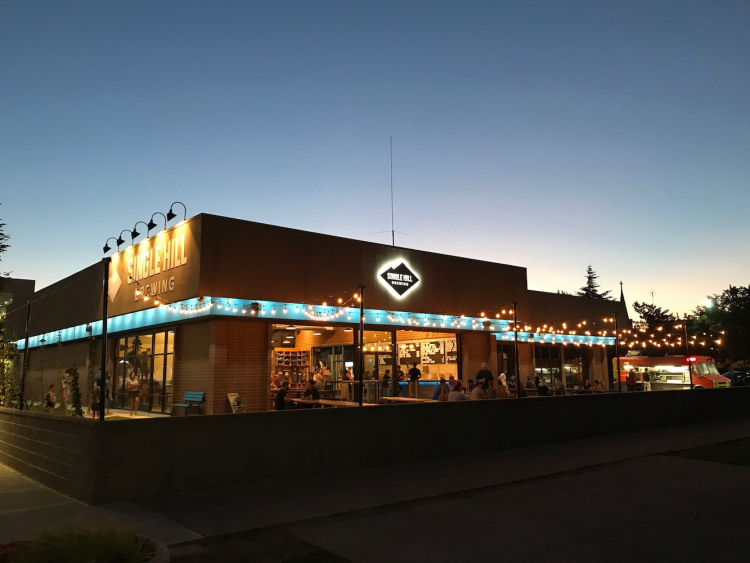 Single Hill has a unique approach to brewing and close proximity to the local hop farms
(Yakima Valley is home to over 75% of the U.S. hop production). They have committed themselves to crafting outstanding beer that celebrates the region along with the friends, family, and community who have worked so hard to make it. The founders both have a history working within the hop industry and over time (and a few beers) they've developed relationships with many of the hop farmers throughout the Valley. From these relationships, they've been able to bring together brewers, farmers, and the Yakima community in the heart of Cascadian hop country—where world-class beer gathers people from every corner to work, play, create, and grow.
You will find people from all walks of life hanging out at Single Hill's beautiful open-concept taproom and large wrap-around patio. From local CEOs and lawyers to moms taking a midday break with the kids, sales associates from Germany to community groups—Single Hill's prominent location in the heart of Downtown Yakima lends itself to being an attractive spot to unwind after a busy day. Single Hill is the culmination of several dreams, especially for the two owners and founders, Zach Turner and Ty Paxton who rallied their friends for several months of intense building and brewing. The results speak for themselves. Just four months after opening, they took first place in the 2018 Fresh Hop Ale Festival, one of Washington's premier beer events. In 2019 they took home three gold medals, two silver medals, and two bronze medals at the Washington Beer Awards and Fresh Hop Competition.

Single Hill Brewing Company
102 N Naches Ave
Yakima, WA 98901
509.367.6756
A social space that creates world class beer, offers simple food, and celebrates Yakima's unique people and landscape.
Must-Try Drinks
Eastside IPA
Citizen Grain Pilsner
Sightglass Hazy Pale
Must-Attend Events
For Single Hill, community comes first. They are striving to become a hub for people to gather, meet each other, and create opportunities to better the Yakima Valley and beyond. Many of their events revolve around hosting nonprofits throughout the Valley, giving them a chance to make connections within the community. In addition to their diverse selection of community events, you can find live music happening throughout the month, BINGO, indie movie screenings, dance parties, and more. If you want in on some of the action they're brewing, hop on over to their Facebook page to stay up to date with all of the latest events. And don't forget the food. Their resident food truck, Five Salsas, is always cooking up some yummy street tacos.

Food
In addition to Five Salsas, Single Hill hosts other food trucks throughout the month as well.