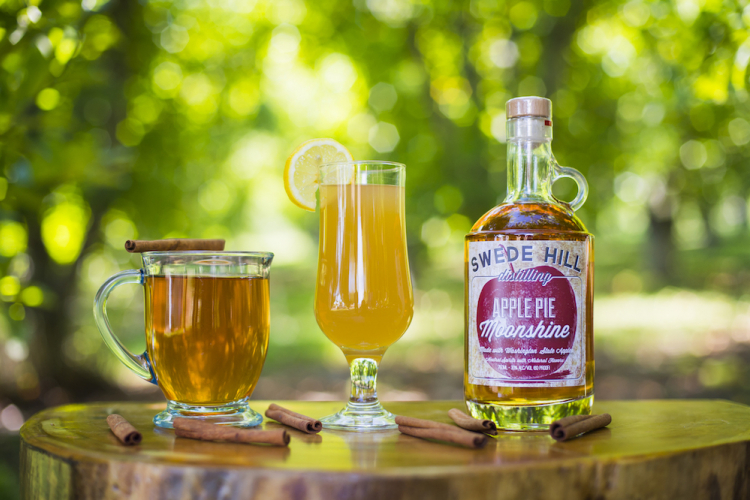 Swede Hill Distilling is one of the more unique gems hidden in the rolling hills of our valley because they're in the business of distilling delicious spirits rather than brewing beer or fermenting wine. You can find their tasting room located deep within the beautiful apple orchards of West Valley, but make sure to set up a tasting appointment before you stop by!
Kevin and Pamela Milford opened Swede Hill's doors back in 2013 so they could share with the community a different way to appreciate the abundance the Valley has to offer. They are a family-owned and operated craft distillery focusing on making tasty small-batch spirits using ingredients straight from local farmers.
Swede Hill gets its fun name from the Swedish immigrants who settled in the Yakima Valley and planted the orchards surrounding their facility. Pamela's grandparents were among those immigrants who planted and farmed the land where the distillery is currently located.
Swede Hill's Apple Pie and Cherry Moonshines are aged for several weeks on the fresh fruit they get their names from, along with other natural ingredients, and are then double filtered for crispness, clarity, and bottled at 60 proof. Another Swede Hill staple is their Single Barrel American Whiskey, which is aged for two years in charred, new American White Oak barrels. This whiskey is then filtered and bottled at 90 proof. Try any of Swede Hill's spirits neat, on the rocks, or mixed in your favorite cocktail!
Because Swede Hill Distillery only takes tastings and tours by appointment you know you'll be in for a special, relaxing treat. You and your friends will get your own private tasting and opportunity to personally interact with the owners one-on-one during this unique visit.
That's not to say you can't find Swede Hill out and about in the community or on the west side of the mountains! They're always participating in farmers markets and other tasting events, so make sure to check out their events calendar to find out if they'll be mixing up something great near you.
To truly top off your tasting journey through the Yakima Valley, you need to make an appointment to visit Swede Hill's tasting room. Or at the very least, visit one of these locations to pick up a bottle and have a private tasting in your own home!
Swede Hill Distillery
12404 Occidental Road
Yakima WA, 98903
509.930.4106
A family-owned and operated craft distillery. We are proud to use produce from local farmers to flavor our distinctly unique, hand-crafted spirits.
Must-Try Drinks
Apple Mojito
Cherry Lemondrop
Whiskey on the Rocks