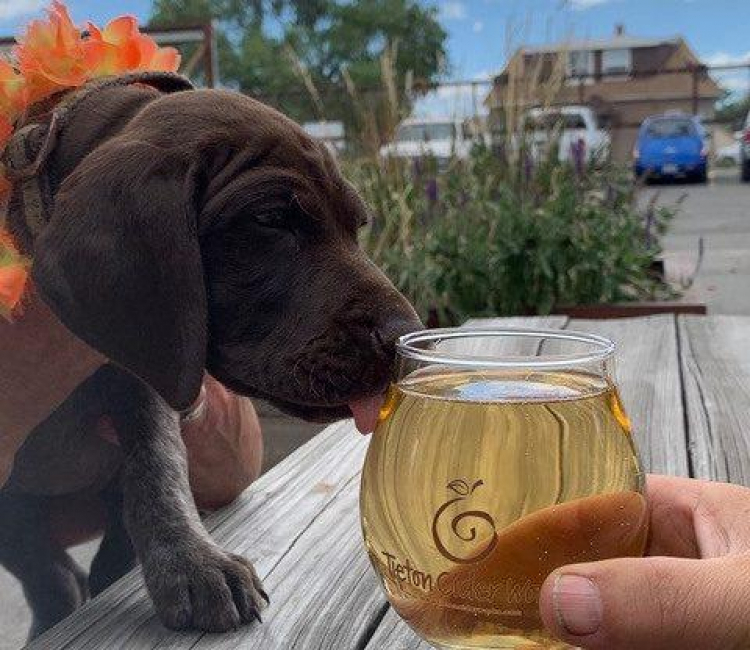 When you mix together third-generation farmers, a hefty dose of science, and a little bit of brewing magic you'll experience cider like you never have before from Tieton Cider Works. Conveniently placed for you to make a stop if you're traveling from the east or west side of the valley to the other, Tieton Cider offers you a range of cider on tap to sample from. From their staples like Apricot or Cherry to their new fan-favorites with a unique twist such as Lavender Honey or Bourbon Peach, Tieton Cider crafts something for every unique palette.
When you take a sip of their cider, you're going to experience a taste right out of Harmony Orchards. Harmony Orchards is owned by Craig and Sharon Campbell who supply Tieton Cider with most of their cider-making apples, along with other fruit varieties, such as the Perry pears in the Pure Pear cider.
Want to know something even the locals might not be aware of? Harmony Orchard and Tieton Cider Works farm one of the largest plots of cider-specific apples in the Pacific Northwest—totaling 55 acres! Every time you choose Tieton Cider, you know you'll get the best fruit, grown by growers who never settle for second-best.
They know their ciders are an expression of the harvest of this bountiful land. At Tieton Cider Works, everyone takes pride in knowing the fruits of their labor will end up in your glass, hence the 'from our orchards to your glass' tagline.
Besides their range of tasty ciders, Tieton Cider Works hosts monthly events. In the warmer months, catch live music by local talents such as American Honey on their onsite stage. In the winter, cozy up with friends for their weekly movie nights. You can also catch multiple paint nights and bocce ball leagues here. During many of their events, Tieton Cider has food trucks and other caterers on-site for you to indulge in. Just here for a quick stop on the weekend? No worries, they've got you covered with great meat and cheese assortments.
Tieton Cider Works
619 West J Street
Suite 102
Yakima, WA 98902
509.571.1430
The ciders we make are an expression of the harvest and reflective of the fruit and the place that it is grown.
Must-Try Drinks
Bourbon Barrel Peach
Lavender Honey
Yakima Valley Dry Hop
Must-Attend Events
Check out one of their new release parties and be the first to try limited varieties on tap! Keep up to date with all of their events on their Facebook page.